Jason's Deli
Jason's Deli
Jason's Deli is all about choice; regardless if you seek a gluten-free menu, vegetarian sandwiches, healthy kids' meals or if you would like to invent your sandwich via our "build your own" selections. You will be delighted at Jason's Deli. Exciting flavors, true freshness and real taste so you know that you're getting nutrient filled goodness for your money. Come try our salad bar that's enhanced with organic choices or taste the world's best Reuben!
Amenities
Dining Amenities
Type of Food
Dining Cost
Open For
Details
Region: South Lawrence
Address:
3140 Iowa St.
Lawrence KS 66046
Get Directions
Visit Website
Deals
FREE Ice Cream from Jason's Deli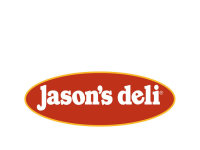 FREE ice cream for all Junior Olympics athletes, coaches, family, and friends. Jason's Deli 3140 S. Iowa St. (785) 842-5600
Upcoming Events
Jun 24
Lawrence Farmers' Market - Saturday Mornings
Lawrence Farmers Market
Jun 24
Baldwin City Farmers' Market
Baldwin City Farmers' Market
Jun 24
The League of Wives: Vietnam's POW/MIA Allies and Advocates (Exhibition Opening)
Dole Institute of Politics
Jun 24
Music Man Presented by Theatre Lawrence
Theatre Lawrence
Jun 24
Disney's The Lion King, Jr.
Lawrence Arts Center
What's Nearby
Places to Eat
Attractions
Entertainment
Shopping
Sports & Recreation